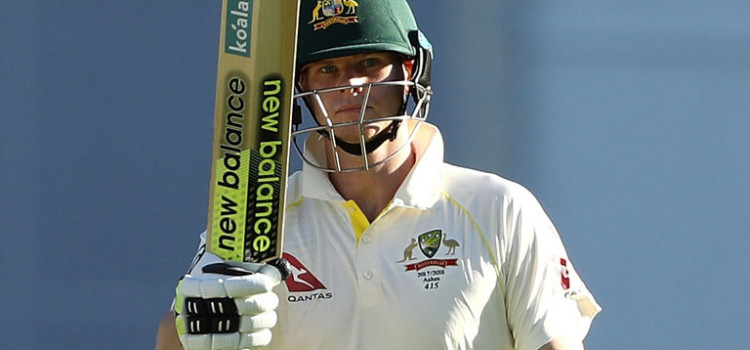 Smith fifty leads resistance..
David Warner became the first wicket to fall on the fifth morning of the fourth Magellan Ashes Test, gifting a wicket to the part-time off-spin of England captain Joe Root.
Shaun Marsh then became the second thanks to a wonderful reflex grab by Jonny Bairstow after Stuart Broad found the edge to leave Australia four down at the lunch break.
A heavy shower swept across the ground as the players dined, with Australia 4-178, with captain Steve Smith unbeaten on 50, and the home side leading by just 14 runs.
Warner digs in for 86 but falls to rash shot
Australia had batted through the opening 90 minutes on day five to boost their hopes of salvaging a draw from the dead rubber, until Warner aimed a slog-sweep at Root's spinner and skied the ball into the covers.
A light shower forced play to stop during Saturday's morning session, at which point Australia were 2-159.
The hosts did take a narrow lead, having started day five at 2-103.
Australia coach Darren Lehmann conceded his side had all but given up hope of victory after day three, when Alastair Cook compiled a record-breaking knock of 244 not out.
England coach Trevor Bayliss admitted after day four that unbeaten batsmen David Warner and Steve Smith loomed as imposing roadblocks on a slow pitch that has hardly broken up.
Warner was 83 not out from 218 balls and eyeing his second century in the match.
Smith was unbeaten on 38 from 123 deliveries, having also dug in desperately as he sought to deny the tourists a consolation prize after they relinquished the urn at the WACA.
Australia hold an unassailable 3-0 lead in the five-Test series, having banked big wins in Brisbane, Adelaide and Perth.
Andrew Ramsey's day four report
Day wrap: Heavy rain dampens England's push
England's hopes of forcing a deserved win from the fourth Magellan Ashes Test will rest as much with Melbourne's habitually erratic weather as their ability to break the partnership between Australia's best two batters, Steve Smith and David Warner.
When a series of summer showers ended the fourth's day play and resulted in more than 40 overs being lost, Australia had crawled to 2-103 and still 61 runs adrift of the tourists' first-innings total with the senior pair stubbornly in occupation.
With no available time and as little hope of setting England a target should they erase the deficit early on day five, Australia will instead be hellbent on avoiding another batting collapse which could deliver the likelihood of an England win.
Which would not affect the outcome of the Ashes battle given Australia holds a 3-0 lead in the five-match series, but would provide due reward for England's brave recovery in the fourth game largely due to the batting heroics of their former skipper, Alastair Cook.
Australia's Bupa Support Team men's coach Darren Lehmann had foreshadowed at play's end on Thursday that realistic hopes of his team winning had effectively disappeared once Cook reached his double-century an hour earlier.
 Cook carries his bat in epic MCG knoc
Words that clearly resonated with skipper Smith and his deputy Warner today as they staged a stoic third-wicket partnership that yielded 38 runs from more than 20 overs under increasingly leaden skies before the rain set in at 3pm.
While Smith was but a shadow of the dominant figure he had shown throughout the first three Tests of a series that was his alone until Cook took the spotlight, the greater transformation was seen in Warner who took the rarely seen role of stonewaller-in-chief.
The uncertainty created by the moribund MCG pitch that made expansive strokeplay more fraught than Melbourne's descent into winter weather, and by a match situation that demanded Australia avoid defeat now that victory was beyond them.
As a consequence, Warner shelved almost every attacking instinct in the wake of his first innings hundred that should have ended on 99.
The unbeaten 40 from 140 balls he had compiled by the time play was formally abandoned for today at 5.15pm represented his least productive strike rate (28.57 per 100 balls faced) of any Test knock in which he's survived for 100 deliveries or more.
A marked contrast to his overall Test career strike rate of 75.23, with the nature of his stand with Smith graphically portrayed by the 4.1 overs that England bowled immediately after the day's first rain delay mid-afternoon that brought not a single run.
Lunch wrap: England strike twice in morning session
If Lehmann adjudged the Test as Australia's to save last night, then it is solely theirs to lose when day five begins amid a forecast of further afternoon showers tomorrow.
The only foreseeable chance of a result rests with an Australia batting collapse similar to that which took place on the second morning when the hosts lost 7-82 in the space of 30 overs and, with it, their grasp on the game.
England had started today holding a lead of 164, and advanced their cause by a solitary delivery and not a single run when their last batter, James Anderson, surrendered his wicket to the first ball of the morning.
Which meant Alastair Cook, having dragged his weary frame out to the middle to resume his 634-minute occupation of the crease, was then compelled to walk immediately back to the dressing room with nothing more than history to show for his morning's batting effort.
Not that there was any shortage of milestone moments to accompany him from the field, along with the warm applause on an overcast Melbourne Friday.
Undefeated on 244 having batted throughout England's first innings of 144.1 overs, Cook became the holder of the highest score by a Test opener to successfully carry their bat and was the first to achieve that rare feat at the MCG where the first international cricket match was staged in 1877.
And, given a temperate nature that sees his preferred means of relaxing away from cricket is to drive a tractor around his Essex farm, he will also take curious satisfaction from having his name now hoisted above a bar at the famous ground.
To denote that he's now the owner of the highest Test score by an overseas visitor to the venue, usurping former West Indies captain Sir Vivian Richards whose social proclivities were far more in keeping with the honour.
The worn and weary look that Cook bore as he followed Anderson back to the boundary was at stark odds with the MCG wicket which, apart from some discolouring where bowlers' feet had been slamming into the turf over the preceding days, remained as staunchly intact as the England opener's defence.
Indeed, as the rival teams went through their pre-game warm-ups and the first of the day's regular showers dusted the MCG, the drop-in pitch betrayed about as many scars of battle as it had on day one before a ball was bowled.
Which was underscored when Australia's openers Warner and Cameron Bancroft began their team's second innings and were largely untroubled against the new ball.
It took England skipper Joe Root just a couple of overs before he abandoned conventional early-overs field settings and started deploying his men in an array of positions ahead of the stumps in the expectation of batter error rather than bowler genius.
But as was the case when Australia effectively handed over control of this match on the second day, the breakthrough arrived via the inside edge of an errantly angled bat that sent the ball skidding on to the stumps via the opener's back pad.
That was an infuriatingly similar mode of dismissal to Smith, Mitchell Marsh and Tim Paine during that decisive session on Wednesday, with Bancroft adding his name to that luckless collective a delivery after he had sweetly on-driven Chris Woakes to the boundary.
Bancroft will now head to the final Test of the Australia summer in Sydney next week with a series return of 179 runs at 29.83 and a solitary half-century, which came on the final day of his maiden Test when he fashioned a match-winning first wicket stand of 173 with Warner.
 Old mate claims a classic in the crowd
The only top-five batter from either side with an inferior record across the four Tests to date is Usman Khawaja who was the other Australian wicket to topple before the team leaders dropped anchor and the rain arrived.
Khawaja's dismissal for 11 could be directly attributed to bowler skill, Anderson angling the ball in at the left-hander from around the wicket and thereby compelling him to play at a delivery that held its line and grazed the edge.
But with Australia's number three boasting 162 runs at an average of 27 per innings and a highest score of 53 from his Ashes campaign, he will be eyeing a sizeable score in the final match at the SCG to shore up his place in the subsequent Test series in South Africa that starts on March 1.
2017-18 International Fixtures
Magellan Ashes Series
Australia Test squad: Steve Smith (c), David Warner (vc), Cameron Bancroft, Usman Khawaja, Peter Handscomb, Shaun Marsh, Mitchell Marsh, Tim Paine (wk), Mitchell Starc, Pat Cummins, Nathan Lyon, Josh Hazlewood, Jackson Bird.
England Test squad: Joe Root (c), James Anderson (vc), Moeen Ali, Jonny Bairstow, Jake Ball, Gary Ballance, Stuart Broad, Alastair Cook, Mason Crane, Tom Curran, Ben Foakes, Dawid Malan, Craig Overton, Ben Stokes, Mark Stoneman, James Vince, Chris Woakes.
First Test Australia won by 10 wickets. Scorecard
Second Test Australia won by 120 runs (Day-Night). Scorecard
Third Test Australia won by an innings and 41 runs. Scorecard
Fourth Test MCG, December 26-30. Tickets
Fifth Test SCG, January 4-8 (Pink Test). Tickets
Gillette ODI Series v England
First ODI MCG, January 14. Tickets
Second ODI Gabba, January 19. Tickets
Third ODI SCG, January 21. Tickets
Fourth ODI Adelaide Oval, January 26. Tickets
Fifth ODI Perth Stadium, January 28. Tickets
Prime Minister's XI
PM's XI v England Manuka Oval, February 2. Tickets
Gillette T20 trans-Tasman Tri-Series
First T20I Australia v NZ, SCG, February 3. Tickets
Second T20I – Australia v England, Blundstone Arena, February 7. Tickets
Third T20I – Australia v England, MCG, February 10. Tickets
Fourth T20I – NZ v England, Wellington, February 14
Fifth T20I – NZ v Australia, Eden Park, February 16
Sixth T20I – NZ v England, Seddon Park, February 18
Final – TBC, Eden Park, February 21
201 Total Views
1 Views Today