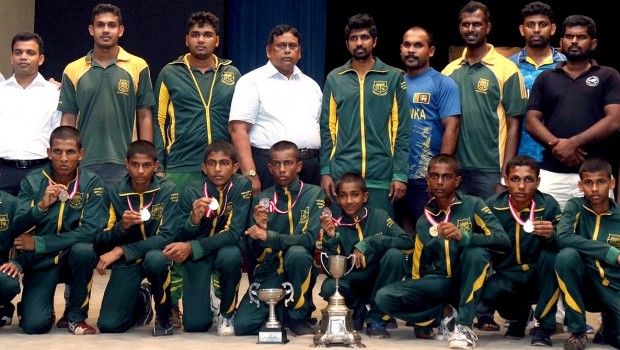 Sivali Central was able to win their L.V. Jayaweera Memorial Boxing Championships
Sivali Central College, Ratnapura was able to win their ninth L.V. Jayaweera Shield last week in the Mahanama College boxing ring.
However, a few years ago it looked as if Sivali boxing was heading towards calamity with boxing. A school that has produced numerous national level boxers was struggling to find their way to the top. Nevertheless within a matter of two years, they have been able to clinch back-to-back L.V. Jayaweera Shields (2014 and 2015); and this is how the school crowned the best in boxing of Sri Lanka turned things around to bounce back on to the summit.
Last week however was different. Sivali did win the 42nd L.V. Jayaweera Boxing Meet, but the manner in which they dominated the proceedings from the word go showed that they have turned out to be an unstoppable force with every single member of the squad winning medals. Talking to Ceylon Today the head coach, Chandimal Alexander revealed the story behind their success.
"We have to be honest about the fact that we were really struggling from 2009 to 2011. We hardly won anything during that period and that was a huge issue for all of us. We have won a lot of boxing tournaments and when we take part in events people expect us to win which we struggled to do in the above mentioned period,
"We were all hurt; the old boys, the former boxers of the school together we all decided we have to do something for the school. We met and discussed the issues we have in hand and how to overcome it. From the beginning of 2012 we started a programme to get things moving,
"We spoke to each and every young player of the school. First we organized a New Year festival to make sure everyone is happy and to identify each other well. Then we organized a coaching camp and a few a motivational sessions. I think all these worked in our favour and the results show that, "the former Sivali boxer said.
He also didn't forget to thank a few old boys who had supported them financially.
"I think it wouldn't have been possible if not for the support given by people like Thilanga Kumudusena, Dr. Mahinda Wasantha and Dr. Buddhika Ranasinghe who helped us immensely,' he added.
Pubudu Kalpage who captained the side during their L.V. Jayaweera win said that working hard with a clear plan in their heads is what made them the winners of this tournament.
3877 Total Views
1 Views Today