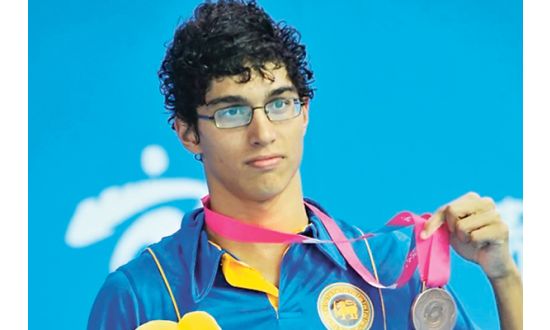 First SL swimmer to achieve WC qualification-Matthew Abeysinghe
Matthew Abeysinghe  of Killer Whale Aquatics achieved a FINA 'B' qualifying time to secure his berth for the Kazan 2015 FINA World Championships at the selections trial concluded at the Sugathadasa Stadium yesterday.
Matthew swam past the FINA 'B' qualifying time of 51.12 seconds completing the 100m Freestyle, as he clocked 50.87 seconds, while missing his own national record which he established last year at the Youth Olympic Games by a millisecond.
The achievement is significant, as he becomes the first Sri Lankan swimmer to achieve a FINA qualification time for the World Championships as opposed to previous Sri Lankan participation by universality places popularly known as 'wildcards'.
"I am happy with this time since this trial was in the middle of the season and we swam without tapering. My target is to better this at the World Championships and try and get as close as possible to the 'A' and work at qualifying for Rio next year" said Matthew Abeysinghe of his performance.
The swimmer from Asian International School who trained under his father Manoj Abeysinghe, had renewed many national records over the years including records set by Julian Bolling more than 20 years ago, and had always showed that he is a far better swimmer than any other Sri Lankan swimmer in history.
Abeysinghe had won a bronze medal at the Asian Youth Games back in 2013 at Nanjing, China while represented Sri Lanka in the Youth Olympics last year, which was also held in Nanjing, China which are significant achievements in the history of Sri Lankan swimming.
The 'B' qualifying time is lesser than FINA's 'A' standard and allows the entry of one swimmer in an event. With one swimmer having achieved this time, Sri Lanka will be entitled to a further quota of three universality places to be distributed between the sexes. Of this quota two other swimmers, Cherantha De Silva of Ananda College and Kimiko Raheem of Asian International School will be certain of their participation having been selected by FINA for the Targeting Rio 2016 Olympics Training Scholarship.
The two swimmers will shortly be leaving the island to commence full-time training under a FINA monitored programme till June next year along with other Asian Olympic hopefuls at the Thanyapura Training Centre in Phuket, Thailand. As part of their scholarship conditions the swimmers will automatically be eligible to swim at Kazan 2015.
The Selection Trials will also serve as the trial to select swimmers for the 5th FINA World Youth Swimming Championships to be held in Singapore in August.
Matthew is the brother of South Asian Games gold medalist swimmer Andrew Abeysinghe and has two younger brothers Dillon and Kyle who too excel in the local swimming arena.
The Olympic 'B' Qualifying standards are 50.70 seconds and Abeysinghe is well on the road to go beyond that with the competition in the WC at Russia.
FINA World Championship will be held from 5-16 August in Russia.
8446 Total Views
11 Views Today