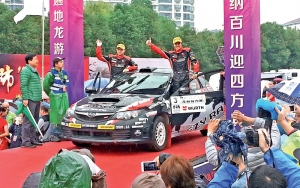 EZY's Mike Young clocks third fastest time
Mike Young who represented Sri Lanka's Ezy Racing driving a Subaru Impreza finished with the third best timing in the Special Stage 1 held at Longyou in the 2015 FIA – Asia Pacific Rally Championship (APRC) China Leg which began yesterday.
Two skoda drivers Pontus Tidemand from Sweden and Gaurav Gill from India became the first and second according to their timings.
Speaking to the media Mike said that it was somewhat difficult to race on the gravel due to rainy weather and had to put some extra effort.
"I'm happy with my timings. It was pretty hard to as the track was very wet and slippery. Some parts wet and some parts dry. Also I had to be careful while putting some effort."
When inquired about his car Mike said "It's perfect, we used mud tyres for the car for the stage one as the track was wet and slippery. But we don't hope to use it on the other stages." He also mentioned "Definitely one of the toughest in the season and has plenty of things to hit on the side of the road and rocks and stuff."
Though the rainy weather condition and the wind disturbed the Rally Show and the opening ceremony, the China racing lovers were seen carrying umbrellas and watching the race as the race began at 2.00 pm amidst the slight rain.
The second of 11 special stage races are slated for today.
1895 Total Views
1 Views Today