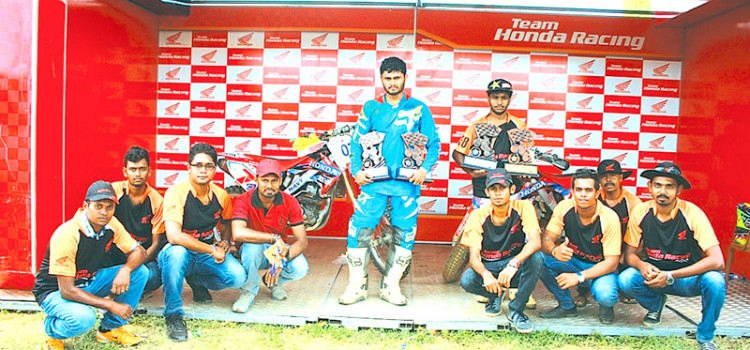 Team Honda continues motocross success…
Following on Team Honda's glorious success at the Gunners Supercross where Imal Manchanayake aboard his Honda CRF250R romped away to a notable double victory in the Group SM Super Motard races 1 and 2, the Stafford-Honda riders continued their brilliant performances at the Gajaba and Walawa Supercross race meetings.
In the Group SM Super Motard category Team Honda's Imal Manchanayake comfortably led the points total with 54 points going in to the GajabaSupercross round. A plucky ride into 5th place in Race 1 after a fall while lying 2nd and nipping at the leader's rear wheel pranged his CRF250R and bruised the rider, Manchanayake nevertheless finished a strong 4th in race 2 on a bike still suffering from the effects of race 1.
Shanuka Sandaruwan's firm 2nd places at Gajaba gave him double podium presence, winning him and Stafford Team Honda a further 16 valuable points in the Group M Street Trail category of the 2015 SLADA Motocross Championship series.
Gajaba marked thereturn to competition of veteran motocross racer and multi-season champion Gayan Sandaruwan after a long layoff following injury late 2014. In his Group MX Motocross Racing 250cc class Gayan felt his way into the fray finishing just off the podium for a remarkable 5th place.
The Gajaba Supercross at the Regimental Centre in Saliyapura, Anuradhapura, was organized by the Gajaba Regiment of the Sri Lanka Army in collaboration with SLADA (Sri Lanka Autosports Drivers Association).
Fast forward a fortnight, and the September 13,Walawa Supercross of the SLEME (Sri Lanka Electrical & Mechanical Engineers Regiment of the Sri Lanka Army), in association with the Sri Lanka Motor Cycle Club (SLMCC). Team Honda was in action again with Shanuka Sandaruwan and Imal Manchanayake.
In race 1 of the Group M Street Trail 250cc class Shanuka catapulted his Honda CRF250X into the lead off the first jump. Shanuka : "I made a good jump at jump 1 and was too fast going into the turn and had to slow down a lot …". Shanuka took 2nd place in that event and a short while later, in race 2, Shanuka put the wheel of his Honda CRF250X alongside of the race leader several times finishing the day with yet another 2nd podium step.
In Group SM Super Motard Open, racing against bikes of almost double the capacity of his, Manchanayake fiercely worked his way past the bigger bikes and was hotly closing in on the leading rider on a 450cc machine at flag fall.
Earlier in the day, in the same category, this time for 250cc machinery, Manchanayake recovered from an early 3rd place, picked off the 2nd placed competitor and took the inside line through to the lead mid-way on the final lap of the 6 lap race and waltzed away, Manchanayake piloting his CRF250R to yet another brilliant 1st place finish.
Two motocross race days, five firm 2nd place finishes, and Stafford Team Honda and the CRF250 motocross machinery captureyet another dominant top step of the podium
2723 Total Views
1 Views Today