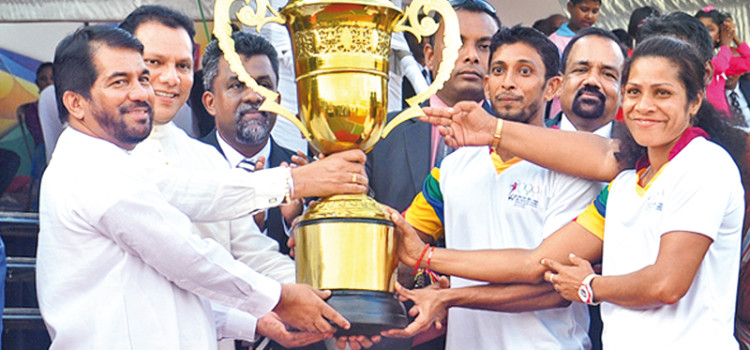 Western Province overall champions..
Western Province dominated the medals table from the beginning and emerged overall champions with 77 gold, 66 silver and 53 bronze medals in the 41st National Sports Festival concluded at the Diyagama Mahinda Rajapaksa Stadium yesterday.
Central Province became runner-up with 47gold, 33silver and 57 bronze medals while the North Western Province secured third place winning 26 gold, 27 silver and 34 bronze medals.
Two Sri Lanka records and 12 new meet records were established during the three-day meet. High jumper Manjula Kumara from Southern Province who leaped to 2.19m was adjudged the Best Male Athlete. Manjula retained the title for the second consecutive year as he was awarded the Best Athlete award at the 40th NSF in Anuradhapura last year.
Western Province's N.C.D. Priyadarshani who set up a new Sri Lanka record in women's long jump with a distance of 6.43m was awarded the Best Female Athlete award. Priyadarshani erased the previous SL record created by N.K. Chandrasena in 2002 (6.40m).
The Best Athlete (female) N.C.D. Priyadarshani (WP) and Best Athlete (male) Manjula Kumara of Southern Province with their awards.
The first SL record of this year's meet was established by P. K. A. A. Madhuwanthi of Uva Province in the hammer throw event (43.18m). She erased her own previous record of 42.74m.
M. V. Suranjaya of Southern Province set up two new Meet Records in 100m and 200m events. He became the fastest man by finishing 100m in 10.45 secs and broke the 17-year previous record (10.47 secs) set up by Chinthaka de Soysa. He created his second meet record by erasing Shehan Ambepitiya'a previous 200m record (21.28secs) with a timing of 21.02 secs.
The Sri Lanka record holder for women's Javelin throw, Southern Province's Nadeeka Lakmali set up a new Meet Record of 58.52m, erasing her previous record (57.89m). Nadeeka's National record is 60.64m.
The 42nd National Sports Festival will be held in Northern Province next year.
Prime Minister Ranil Wickremasinghe was also present at the meet, but left before the award ceremony.
New records of the meet –
Men's
Javelin throw – R. M. S. J. Ranasinghe (Sabaragamuwa) 75.91m
Pole-vault – M. H. I. Sandaruwan (WP) 4.83m
200m – M.V. Suranjaya (SP) 21.02secs
100m – M.V. Suranjaya (SP) 10.45secs
Women's
Hammer throw – P. K. A. A. Madhuwanti (Uva) 43.18m (NSLR)
Long jump – N. C. D. Priyadarshni (WP) 6.43m (NSLR)
5000m – Nilani Ratnayaka (Sabaragamuwa) 16.50:67 Minutes
Triple jump – Vidusha Lakshani (WP) 12.98m
800m – W. K. L. A. Nimali (SP) 2.05:32 Minutes
400m Hurdles – W. P. E. R. Dulakshi (SP) 59.51secs
Javelin throw – Nadeeka Lakmali (SP) 58.52m
400mx4 – Southern Province 3.43:98 Minutes
1801 Total Views
1 Views Today