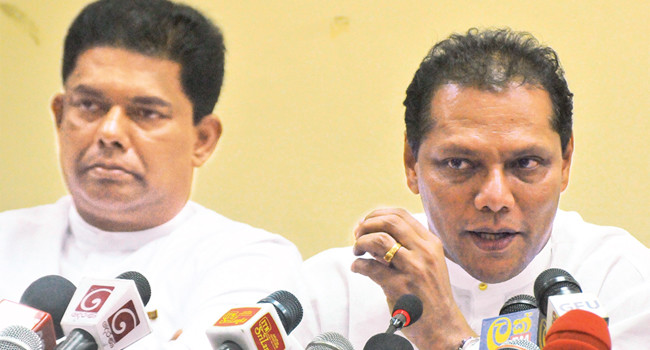 Jan 25-30 declared as National Week for Sports & Physical Fitness ..
To promote physical fitness and well being among the people of Sri Lanka the Ministry of Sports have declared January 25-30 as a National Week for Sports and Physical Fitness titled " Run Sri Lanka Run".
"Around 12 percent of the school children in Sri Lanka suffer from diabetes and several non communicable diseases which could lead to a huge problem in the future," said Sports Minister Dayasiri Jayasekera at a media briefing for heads of media at the Ministry of Parliamentary Reforms and Mass Media yesterday.
"According to World Health Organization statistics 18 percent women and 31 percent men from Sri Lankan population are prone to non communicable diseases especially diabetes,"the Minister said.
The programme will be focused on citizens in state organizations, students, youth and women's affairs, health and indigenous medicine sectors, security services, private entrepreneurships, sports associations, federations, organizations and general public.
The fitness programmes will start at 7.00 am each day. President Maitripala Sirisena and other parliamentarians are also due to take part.
The Minister emphasized that physical fitness activities in schools will be made compulsory and every child should engage in at least one sport. "Children who engaged in sports should be given extra marks in term tests," the Minister said.
He said he hoped to implement a scheme in collaboration with the Ministry of Education where extra marks will be given in term tests as well as Ordinary Level and Advanced Level exams.
He also stressed that he will be working on re-organizing the Sports Societies in the Grama Sevaka areas around the country.
The Minister also emphasized that those who engaged in sports activities should be given priority when recruiting for jobs.
The Minister of Parliamentary Reforms and Media Gayantha Karunatilleke said this National Programme will not be limited to Colombo but expanded to all areas of the country. "The President has given his fullest support to this programme," he said.
Deputy Sports Minister H.M.M.Harees, Deputy Minister for Parliamentary Reforms and Mass Media Karunaratne Paranavithana, secretaries of the Ministries and other officials were also present at the occasion.
1807 Total Views
1 Views Today