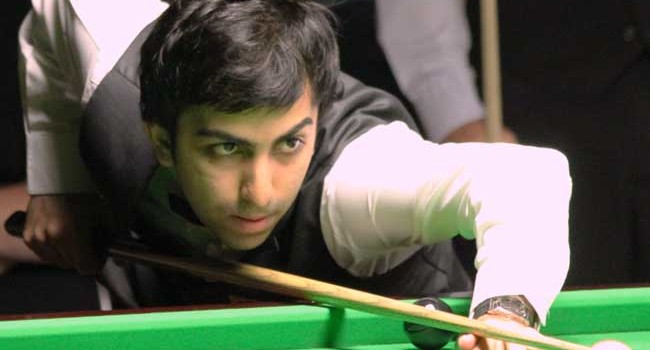 Advani likely to defend Asian billiard title in Sri Lanka
Present World and Asian billiards champion India's Pankaj Arjan Advani is likely to be seen in action when the Asian Billiards and Asian under-21 Snooker Championship are concurrently worked off from March 1 to 9 at the Hotel Ramada in Colombo.
Advani has achieved a hat-trick of hat-tricks in billiards, holding the World, Asian, and Indian National Championship titles simultaneously in three different years: 2005, 2008 and 2012. He became a snooker professional only in 2012.
The Asian Confederation of Billiards Sports (ACBS) has conferred the honor of holding these two prestigious international events to the Billiards and Snooker Association of Sri Lanka (BSASL), the local governing body of cue sport based on the successful hosting of the World Billiard Championship in 1979. Sri Lanka also produced a world champion in billiards when M.J.M. Lafir won the world title in 1973 to become the first Sri Lankan to do so in any sport.
The two regional international events will attract players from about 20 countries and the U-21 snooker event will mainly focus on local youngsters where eight top players will be given the opportunity to take part.
BS ASL president Zuraish Hashim speaking at the press briefing. PicPankaj ture by Wimal Karunathileka
The Sri Lanka team is captained by 18-time National Billiards Champion K.H. Sirisoma and he will have another six to eight local players to battle it out for the Asian billiards crown. India will be the biggest challenge for both U-21 snooker and billiards championship, but Sri Lankans will have the home advantage to compete under familiar conditions. Sri Lanka's most experienced international referee Ameer Mukhtar will be the chief referee for the championship.
BSASL president Zuraish Hashim said that it's a great privilege to host these two important events in Sri Lanka and it is a clear indication of the faith the ACBS has bestowed on them.
"We also received a good response from the sponsors and are ready to conduct the events to the highest standard. I must mention the great support given by the Sports Minister Dayasiri Jayasekera. We are importing 10 new tables for these two events and five of them are sponsored by the Sports Ministry. The Sports Minister has also assisted in the renovation work of our BSASL headquarters at Sugathadasa Sports Hotel and promised to support the development of the cue sport," Hashim said.
According to Hashim, attractive cash awards will be on offer for the usual international standards in the U-21 snooker championship where the quarterfinalists will be entitled to cash awards for the highest break (above point 1000).
"Cue sport is gaining popularity in Sri Lanka rapidly and many youngsters are stepping into it. As the governing body of the sport we conduct training for a set of youngsters on a daily basis and we are privileged to have 18-time world champion Mike Russell as an expert coach to these lads. We are very confident that these players will mould themselves into international players of repute very soon. Hosting this kind of international events will help popularize Sri Lanka as a sporting destination," the BSASL president said.
2635 Total Views
1 Views Today