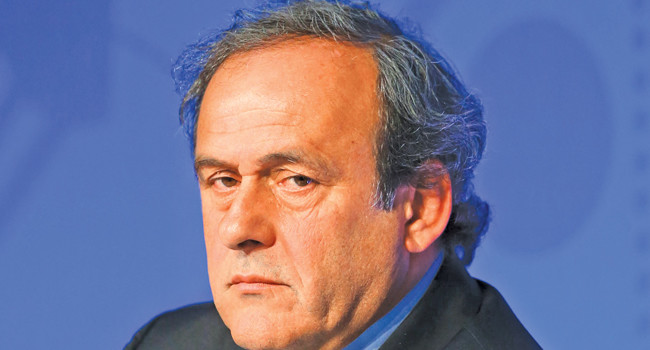 Platini loses appeal, quits UEFA presidency
Lausanne, Monday: Michel Platini quit as the head of European football on Monday after a sports tribunal rejected his final appeal against his ban from football over a suspect $2.0 million payment he received from FIFA.
The Court of Arbitration for Sport (CAS), where Platini filed an appeal against his ban in February, reduced his suspension from six years to four, saying the penalty initially imposed by FIFA's ethics committee was "too severe."
But the court said it was "not convinced" that the $2.0 million (1.8 million euros) payment Platini received from FIFA in 2011 was legitimate.
The payment was ordered by FIFA's disgraced ex-president Sepp Blatter, who was also brought down over the infamous transaction.
The pair are the highest-profile casualties in an unprecedented set of corruption scandals within world football, which has seen dozens of long-serving FIFA executives arrested and charged with corruption.
Platini, once the front-runner to succeed Blatter at FIFA and become the most powerful man in the sport, said in a statement that following the ruling he had no choice but to resign from UEFA.
"As agreed with the national associations, I resign as president of UEFA to pursue my fight before the Swiss courts to prove my probity in this case.
He called the CAS ruling "a profound injustice."
UEFA's executive committee is to meet in Basel on May 18, before the Europa League final, when it will likely begin the process of selecting Platini's replacement, although an election could be put off for several more weeks.
The ruling means Platini will be barred from presiding over the Euro 2016 which opens in his native France on June 10. Platini was a key organiser up until his suspension in December.
Platini and Blatter have both denied any wrongdoing. They have insisted the $2.0 million was part of a legitimate oral contract in exchange for consulting work performed by Platini.
The CAS ruling noted that Platini had a valid consulting contract with FIFA signed in 1999 — with an agreed salary of 300,000 Swiss francs ($300,000) per year — which terminated in 2002.
But, the $2.0 million he received from FIFA in 2011, "was not based on any document established at the time of the contractual relations" and did not match the amount left unpaid at the end of the contract, CAS said. AFP
1518 Total Views
1 Views Today