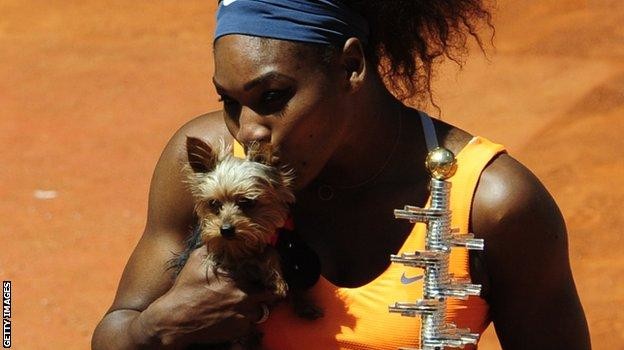 Serena Williams eats dog food but reaches Italian Open quarters
Serena Williams made herself ill after eating dog food hours before reaching the last eight of the Italian Open.
The world number one tried "a spoonful" of food meant for her dog Chip before beating fellow American Christina McHale in straight sets in Rome.
"I thought 'what the heck, I'm gonna try a piece, it looks good'," said the 34-year-old.
"Fast forward two hours – I just ran to the toilet like I thought I was going to pass out."
In a video posted on Snapchat before her match with McHale, Williams explained she sampled a dish of chicken and rice offered on a 'doggy menu' at her hotel.
"It did taste weird," she said. "I force-swallowed it. It tasted kind of like house cleaner. I don't know what they put in these dog foods, but Chip liked it.
"I don't think it's consumable for humans – they should have wrote that! So now I feel really sick. It was just a spoonful but I don't feel so good."
Williams recovered in time to defeat McHale 7-6 (9-7) 6-1 and set up a meeting with Svetlana Kuznetsova – who beat fellow Russian Daria Gavrilova – in the last eight.
1523 Total Views
1 Views Today