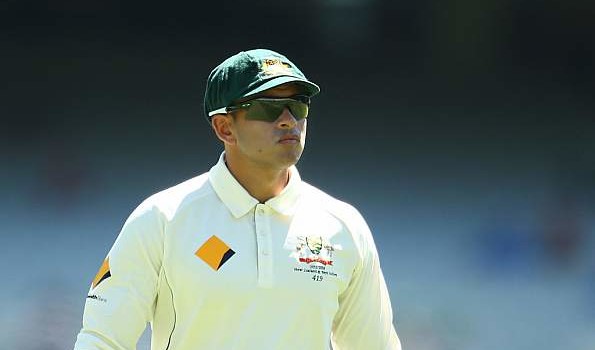 Usman Khawaja hopes for Australia's quick transition to red-ball cricket
Khawaja opined that the success on the tour will depend on how the Australian players adapt, both mentally and physically. © Getty
After an extended season of white-ball cricket, it is back to the rigours of Tests for Australia, who open their season in the unforgiving climes of the sub-continent with a three-match series against Sri Lanka. Australia arrived in the island nation a full two weeks ahead of the first Test in Pallekele with an eye on getting acclimatised to the conditions at the earliest. One of the key challenges for the team, according to in-form batsman Usman Khawaja, is the need to transition quickly to playing with the red ball.
"We haven't played red-ball cricket for a while," Khawaja said on Saturday (July 16). "It is weird seeing the red ball coming down the first time when it did. But change is nice. I really enjoyed having that period of white-ball cricket. Now, I'm enjoying coming back to the Test mould. We were out on the field whole day yesterday, so you figure how tough being on the field is and you've to do it five days of it. Test match is hard stuff, so looking forward to it."
Since their two Tests against New Zealand at the turn of the year, Australia played a limited-overs series in South Africa, the World T20 in India and an One-Day International tri-series in the Caribbean. Khawaja opined that the success on the tour will depend on how the Australian players adapt, both mentally and physically.
"[The transition] will involve a bit of both. It's about making sure you're doing everything right mentally and physically. Test match is always the toughest form of the game, more so in conditions like these for five days. You know if it gets that far, it is going to be tough.
"Everyone is training really hard so far and doing what they have to do. It's always hard in little intra-squad match like this to replicate the full match conditions but it was nice for everyone to get out in the middle and get some time on a ground we'll be playing in couple of days time," he added.
While Australia haven't enjoyed the greatest of returns in spinning conditions – they lost in India in 2013-14 and then faced another series loss to Pakistan in UAE in 2014 – Khawaja believes that the players are now more in-tune with the demands of playing in such conditions, thanks to their limited-overs outings in largely similar environments.
"Yes, the weather's a big challenge. It's very hot and humid. That's a challenge on its own. The conditions are different but you get similar (conditions) in the Windies and India. It's not too foreign. But obviously very different from what we get back home. One of those places, if you get in and score a few runs you'll feel really comfortable. At the some time, if the wicket deteriorates, it can get tough to score on."
1666 Total Views
1 Views Today