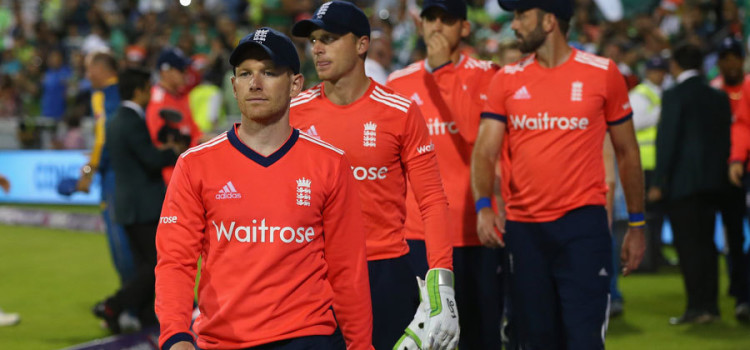 Plenty on Strauss' plate as Morgan decision looms
The end of an international season brings thoughts on what has been achieved and what challenges next lie ahead. For Andrew Strauss, the director of cricket who spent Friday and Saturday appraising all of England's centrally and incrementally contracted players at Loughborough, there is plenty to ponder on both counts.
At the forefront is the situation regarding the limited-overs captain, Eoin Morgan, and the likelihood that he will not tour Bangladesh for the one-day series. Unless Strauss' powers of negotiation have worked unexpectedly in allaying Morgan's concerns, there does not appear much chance of changing his mind. Final confirmation is expected Sunday evening.
No Morgan, who turned 30 on Saturday, would mean a new one-day captain would be needed for the three matches in Bangladesh. Jos Buttler, as vice-captain, would head the list – he has led England once before, in a T20 against Pakistan – although, given his workload as wicketkeeper, longer-term Joe Root could be the likelier successor to Morgan when a permanent change is made.
Players have been assured that pulling out of the tour will not be held against them, but Strauss could not guarantee an open door straight back if others take their chance. If the player given a place by Morgan's absence – Jonny Bairstow or Ben Duckett, for example – enjoys a prolific series against Bangladesh there will be a challenging situation for Strauss and the England selectors, although it seems highly unlikely that Morgan will not be England's captain at the Champions Trophy. That could be the time it is considered whether he is the man to lead England all the way to the 2019 World Cup.
Beyond the difficulties presented by the Bangladesh tour, Strauss' remit is also to keep thinking ahead. With that in mind, and the proximity of two major global one-day events in three years, there are likely to be some changes to England's central contracts system when the new cohort are confirmed at the end of the September.
Since Strauss was appointed last May his mantra has been the importance of treating limited-overs cricket seriously. Led by the coaching staff, Trevor Bayliss and Paul Farbrace, plus Morgan's captaincy, England's white-ball cricket has often been spectacular in the last 18 months.
That is likely to be reflected in the updated contracts system, which could give greater weighting to white-ball performances while an increased number of deals could be handed out in order to include one-day specialists ahead of the Champions Trophy; the likes of Jason Roy, Chris Jordan, Liam Plunkett and David Willey could benefit. Morgan holds one of the current 11 central contracts as does Buttler who has been a limited-overs specialist for much of the last 12 months.
Ian Bell is also in the current batch but will lose his barring an unlikely recall for the winter tours. Jonny Bairstow and Chris Woakes, two of England's major successes in Test cricket this season, will be in line for significant central contracts having only been on incremental deals for 2015-16.
"I've spoken a lot about taking white-ball cricket more seriously and creating a balance between the formats," Strauss said. "I don't think our central contracts system as it stands does that and we've been working on a creating a system that reflects that better."
There is also a focus on the coaching staff as well as the players. There will be rotation among coaches this winter with Andy Hurry, the U-19 head coach, Paul Collingwood, Graham Thorpe and Steve Rhodes all having spells with the senior side.
"We understand how demanding touring non-stop is and how important it is for the support staff to be fresh but it's also a way of introucing people to the environment," Strauss said. "What we are trying to do with our coaching staff is ensure they are working up and down the programme from U-19s up to the England team."
In terms of the selection process there will not be changes in the immediate future. There appeared to be tensions earlier this season when a majority of the selectors, led by medical advice, overruled Bayliss' and Alastair Cook's desire to have James Anderson available for the first Test against Pakistan after he had suffered a shoulder injury in the lead-up to the series.
Strauss, who has attended most selection meetings this season but does not have a vote, said he remains happy with the panel headed by James Whitaker which includes Mick Newell and Angus Fraser as well as Bayliss. Strauss' focus continues to be making the vast amount of information collected on players used more effectively in selection.
"In terms of the personalities, I think it's working well," Strauss said. "The selection process has worked really well in the time I've been there. For me the real focus is the information we give the people making the decisions. Better use of technology, analysis, making it easier to tap into the huge amount of data we have on computers."
The final names those selectors come up with for Bangladesh and India, which will be announced on Friday, will no doubt provoke much debate.
1579 Total Views
1 Views Today