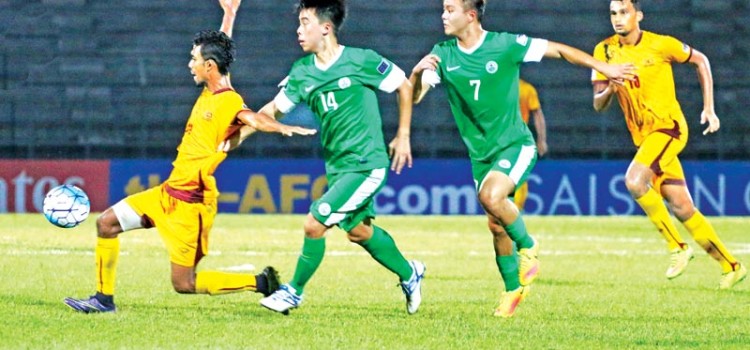 Sri Lanka flies home after 1-1 draw with Macau…
Sri Lanka who was defeated in their first two matches in the ongoing Asia Solidarity Cup Soccer Championship in Malaysia fought a battle of honour against Macau to force a one- all draw at the Sarawak Stadium in Negiri, Kuching yesterday.
Sri Lanka dominated the game with an early goal by Kavindu Ishan who found the net following a superb pass from Mohamed Rifnaz in the fifth minute. They were leading the game until Macau's Voi Weing found the equalizer in the 85th minute. It was a moral boosting goal for the Macau players who restored their unbeaten status in the tournament.
The Sri Lankans were unfortunate to miss two easy scoring chances during the second half where the ball struck the goal post and went astray. Sri Lanka made three substitutions during the second half, but could not break the strong Macau defence to score the decisive goal.
The match cost Sri Lanka's probability to enter the semi-final round. The team will fly home via Kuala Lumpur tonight.
Sri Lanka last played against Macau in the 2014 Lusofonia Games in India where they emerged victorious. Even in the 2014 match it was Kavindu Ishan who scored a goal against Macau. Sri Lanka is ranked at 193 while Macau is two behind at 195 in the World Football rankings.
Macau will meet Brunei while Nepal will take on Mongolia in the semis on November 12. The winners will battle for the Asia Solidarity Cup in the final on November 15.
1300 Total Views
1 Views Today