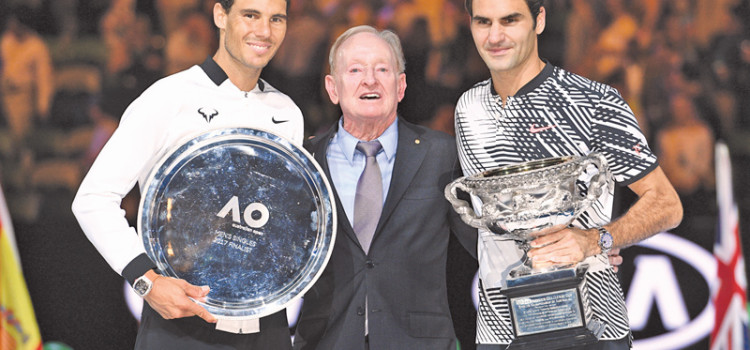 Federer wins Nadal thriller to clinch 18th Slam
Roger Federer was in tears as he won a thrilling, five-set Australian Open final against his great rival Roger Federer to clinch a record-extending 18th Grand Slam title on Sunday.
Federer won 6-4, 3-6, 6-1, 3-6, 6-3 in three hours 38 minutes on Rod Laver Arena to move four major titles ahead of Nadal and Pete Sampras on the all-time winners' list.
The Swiss marvel also became the oldest man in the post-1968 Open era to win a major final since Australia's Ken Rosewall at the 1972 Australian Open. It was Federer's fifth Australian title in his sixth final, and ended a long, seven-year wait to win again in Melbourne after his 2010 triumph over Andy Murray.
It was the 35th meeting between the two great rivals with Nadal now leading 23-12 and 6-3 in major finals, including his five-set win over Federer in the 2009 Australian final.
Roger Federer celebrates with the championship trophy during the awards ceremony after his victory over Rafael Nadal in the Australian Open men's singles final at Melbourne Park on Sunday. AFP
Federer, playing with a flatter backhand than normal, took the match to Nadal and got the only service break to take the opening set.
Nadal fought back with two breaks to level before Federer got the bit between his teeth with a double break in the third set.
The Spaniard hit back in the fourth set with a service break in the fourth game to take the final into a fifth set.
He again broke the Swiss early in the final set but Federer rose to the occasion and broke Nadal twice to win a classic encounter as he served out for a strong win, jumping for joy as he did so and quickly tearing up.
Federer also becomes the first man in history to win five or more titles at three different Grand Slam events. He has won five Australian Opens, seven Wimbledons, five US Opens and one French Open.
Men's final, as it happened
Set-by-set breakdown of the Australian Open men's final, after Roger Federer beat Rafael Nadal 6-4, 3-6, 6-1, 3-6, 6-3 on Sunday:
Set 1 – Federer 6-4, 34 minutes
In a tense atmosphere at Rod Laver Arena, the final goes with serve until game seven, when a Federer volley sets up two break points and he breaks as Nadal fires a backhand wide. It's all Federer needs to take a one-set lead as he serves it out, sealing the set with an ace.
Set 2 – Nadal 6-3, 42 minutes
Nadal puts Federer under pressure in his first service game and his one-handed backhand cracks under the pressure of the Spaniard's heavy forehands, as he nets when facing his second break point. Federer then works two break-back points in Nadal's next service game, but he miscues with his forehand each time. Another forehand error hands Nadal the double break and despite Federer getting a break back, Nadal levels the match on another mistake from the Swiss's forehand.
Set 3 – Federer 6-1, 41 minutes
Federer produces three aces to stave off three break points in a 10-minute opening game, and he immediately makes Nadal pay when he breaks him in the next game. Nadal saves more break points at 0-3 down but he is broken again for 1-5 when Federer creams a superb backhand return winner. Federer, when serving for the set, faces down a break point with a service winner before he grabs a 2-1 sets lead with a cool backhand volley.
Set 4 – Nadal 6-3, 40 minutes
Nadal comes roaring back and he breaks Federer in game four when the Swiss puts a backhand volley into the net. The Spaniard holds brilliantly in the fourth game when he retrieves a deep Federer backhand and flicks it back for a crosscourt winner that draws applause from his opponent. Federer aces twice to see off another break point and hold for 2-4 down, but the set is Nadal's and he converts the first of three set points to force the decider.
Set 5 – Federer 6-3, 61 minutes
Federer returns from a medical time-out and he's immediately broken to go 0-1 down when he sprays a forehand wide. Nadal fights off three break points in the next game and he moves to 2-1 up before Federer has treatment to his right thigh at the changeover. Nadal produces a big backhand winner to survive a break point in game four but Federer breaks back in the sixth when the Spaniard flashes a forehand narrowly wide. At 3-4 down, Nadal bravely saves four break points but on the fifth, Federer's wide, sharply angled backhand return is too much for the Spaniard to get back over the net. Serving for the championship, Federer saves two break points before he finally clinches it on his second match point, despite a despairing Hawk-Eye challenge from Nadal. AFP
1165 Total Views
1 Views Today