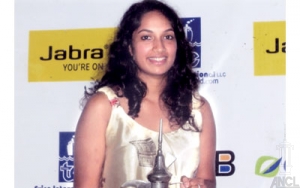 Shamara Wettinumy going great guns in golf…..
The famous Wettimuny's who have glittered the local sporting scene with their performances have added another star to their galaxy in the form of teenager Shamara Wettimuny.
Shamara Wettimuny daughter of cricketing legend Sidath Wettimuny probably took to golf not very long ago as her handicap indicates. She plays most of her golf at the Victoria Golf Course which is no ordinary golf course most challenging and exciting and ideal opener for a new comer.
If one can come to terms with this golf course, the other will be a mere formality.
The first time we heard of Shamara Wettimuny was at the international golf event of Sri Lankan Airline golf classics 2014 towards the end of last year where she did exceptionally well on the first day to lead Nett event for ladies.
Though she did not win a trophy she held a lot of promise for a future.
Studies took her away from golf for sometime. She made her appearance at Victoria at UAE – Sri Lanka Open Golf Championship 2015 when she stunned the championship by winning the overall championship and the main trophy with a Nett score of 36.
Her's was an incredible performance for a little girl who was new to the scene. Despite some top golfers and the challenging nature of the Victoria Golf Course, she held her nerves to emerge winner.
The Wettimuny's are always shy of publicity and they hardly speak of about themselves. Shamara Wettimuny is no different.
The Wettimuny's have lit up local cricketing scene first it was Mithra followed by Sunil and Sidath. Nimal was there but he did not reach up to the standards of his three elder brothers who all represented Sri Lanka schools and Sidath turned out to be a run getting prodigy for Sri Lanka with an epic knock of 194 against England at Lords which then the highest individual Test score by a Sri Lankan in a Test match. But soon after he retired from Test cricket for reasons best known when he had may more cricketing years left in him.
He was affectionately known as 'Lord Sid' probably because of his record breaking knock at the 'Mecca of Cricket' Lords Cricket Ground presently he is the Chairman of the Interim Committee of Sri Lanka Cricket.
Having built up a home for himself a 'stones throw' from the Victoria Golf Course, Sidath took up to golf and has put up some impressive performances by winning prestigious championships.
His son Sanjay too is a good golfer winning many junior tournaments before studies took him to America and the golfing scene briefly lost a blossoming golfer.
He left not before he battled out his father Sidath in the finals of the Donald Steel Golf Championship and the result was experience triumphed over youth.
Next to take to golf the youngest in the family Nimal who too has come up with some impressive performances both at Victoria and Colombo where he had failed in cricket he is making up at golf.
New little Shamara has entered the scene and we will hear of her a lot in the future throwing a big challenge to the seasoned golfers and her handicap will be slashed.
– See more at: http://www.dailynews.lk/?q=sports/shamara-going-great-guns-golf#sthash.t6GCGm5j.dpuf
9487 Total Views
1 Views Today