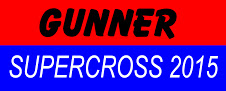 10th Gunners Supercross
The regiment of Artillery made all final arrangements to conduct the 10th Gunners Supercross 2015 in associations with Sri Lanka Auto Sports Drivers Association (SLAADA) 5 July at the Artillery Complex in Minneriya. The organizers of this event revealed this at the press briefing held at Light House Galley Colombo.
This magnificent event would be worked off at the uniquely constructed gravel track. With applications closing on 19 June so far four Indians have consented to take part in the competition. 12 bike events and 11 car events are scheduled this year.
The ninth Gunners Super Cross concluded with remarkable success and was also witnessed by a large gathering of motorsports enthusiasts with over 120 competitors showing their powers in motor racing.
Speaking at the press, Vice President of SLAADA, Yoga Perera said that, this is an open event but every competitor must have a driving license.
The project accomplished much funds from the nine previous super cross events. And served worthy causes that included construction of houses, for the needy members of the Gunner's family; also numerous other projects benefiting the soldiers and their families. We have also extended the benefits to the population of the Polonnaruwa region by way of arranging social welfare projects.
This grand event was introduced in 2004 under the stewardship of the then Colonel Commandant of the Regiment of Artillery present Major General, S.D. Tennakoon RSP NDC.
2085 Total Views
1 Views Today