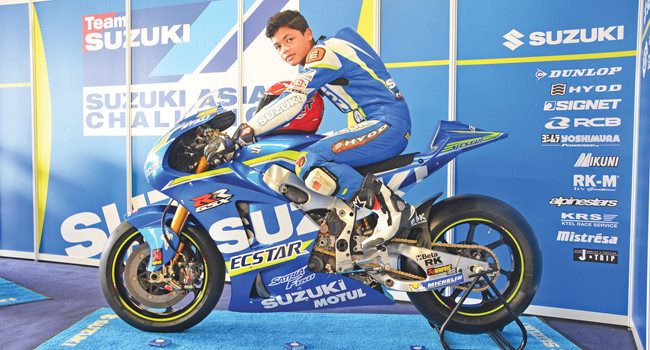 Teenager Aaron Gunawardena gets big break
Sri Lanka's sensational teenage motor racing rider Aaron Gunawardena who turns 13 this month has been included in the Suzuki team running for the Asian Championship.
Aaron with experienced MotorGP rider Yukio Kagayama
This is the first time a Sri Lankan rider has got a break in an international circuit Suzuki, the Japanese marque introduced its own Asian series that runs in conjunction with the FIM Asia Road Racing Championship (ARRC) and Aaron will be part of the Suzuki team running for the Asian Championship.
Aaron went to Suzuka, Japan to take part in the Asian Road Race and rode his Suzuki 125cc bike in the third round of the five-round race. He is currently placed in the first ten.
Aaron who is the baby of the bunch was one of the first Asian riders to get an opportunity to pose on Aleix Espargaro's Moto GP bike for a press release.
Espargaro and Maverick Vinales took Suzuki to another level and after a shaky start to the season Vinales and Aleix have finished in the top six at the last three rounds and sits at No. 5 and 7 on the world championship standings.
Young Aaron said he was excited to sit behind Aleix's bike and touch the controls.
Aaron riding his Suzuki 125cc in the Asian Road Race at Suzuka.
"I like to say a big thank you to Suzuki for the motivation and I am happy to be part of Suzuki's structured program," said Aaron.
The proud Dad Shane said, "Suzuki's efforts to discover and groom riders from the Asian region and Suzuki's return to the MotoGP in 2015 have been really great. The collaboration with the Asia Road Racing Championship has motivated many riders from all parts of Asia and I have no doubt that we would see an Asian in MotoGP soon".
Yukio Kagayama, who has abundant experience in MotoGP, World Superbike, World Endurance, and the Japanese Championship said he was happy about the progress Aaron has made so far.
"Champions are not made overnight. There is a long progression for young riders before they are ready to take on the challenges of the world stage," said Kagayama.
"There is no short cut to success and the young riders trained from the Suzuki Asian Challenge must first be exposed to even more competitive racing in the higher classes."
1880 Total Views
1 Views Today