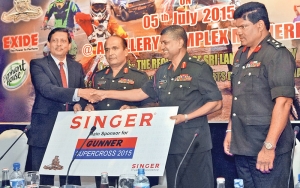 Gunner Supercross 2015 on July 5……
The Artillery Regiment has made all arrangements to conduct the Gunner Suprecross 2015, in association with Sri Lanka Autosports Drivers Association (SLADA) on 05h July 2015 at the Artillery Complex Minneriya.
This magnificent event would be worked off at the uniquely constructed gravel track, promising an aura of excitement combined with the spills and thrills of motor sports similar to the nine previous events that proved roaring successes.
This grand event was introduced in the year 2014 under the stewardship of the then Colonel Commandant of the Regiment Artillery Major General S.D. Tennakoon RSP ndc.
It generates much needed funds for numerous welfare facilities for serving soldiers and the dependants of those who sacrificed their lives for the motherland during the protracted conflict in Sri Lanka.
The ninth Gunner Supercross concluded with a remarkable success and was also witnessed by a large gathering of spectators from all over the country. Over 120 competitors showed their prowess in motor racing. The dedication and commitment by Colonel Commandant, Commander Artillery Brigade, Commanding Officers and all ranks of the regiment involved in organizing this event would definitely achieve success.
The projects accomplished with funds accumulated from the nine previous Supercross events include construction of houses for the needy members of the Gunner family, construction of accommodation facilities for officers and other rankers, construction of a swimming pool for soldiers and students/ general public in the region, awarding of scholarships and computes to selected children of the Gunner family and also numerous other projects benefited the soldiers and their families. They have also extended the benefits for the population of Polonnaruwa region by way of arranging social welfare projects.
Singer (Sri Lanka) PLC, CEAT Kelani International Tyre (Pvt) Ltd, Brown and Company PLC, Perera and sons, Ceylon Cold Stores PLC, Brantel Lanka (Pvt) Ltd and Merchant Bank of Sri Lanka (MBSL) have joined hands as the sponsors for gunner Supercross 2015 with generous contribution of all other sponsors and well wishes in Polonnaruwa district and the other areas of the country.
2040 Total Views
1 Views Today