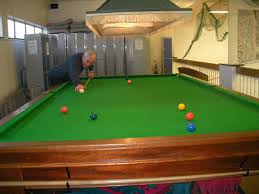 Snooker at historic Kandy Club…….
The 138 year old Kandy Club with backing from Sri Lanka Billiards and Snooker Association headed by Zuraish Hassim will be hosting a six ball pot black snooker competition Saturday 26 September at the club table at the Malabar Street Kandy.
This Club with a history all the way back to 1877 has a table which is over one hundred years old, probably one of the historic billiards and snooker tables that the country has which is in good condition. This table donated by English planters and military men dates back to 1913, which was used by Stevenson and Gray sole maker John W. Roberts 9th son of the retired billiard table manufacturer from Madras and Karachi.
Thanks to this club, the table is preserved in its original condition – even the ivory dots that surround the table. This table came to the club when the property was run by Englishmen. They also have one of the oldest score boards which too is over 100 years.
The entry fee for the 6 Ball Pot Black Tournament is Rs 500 and it will be an invitational event. It is expected the tournament will start at 9.30 a.m. and will be completed the same day on 26 September, concluding with the awards ceremony. The teams expected to take part are Kandy Garden Club, Kandy Sports Club, Public Services Club, Mahanuwara YMBA and Kandy Club.
2601 Total Views
1 Views Today