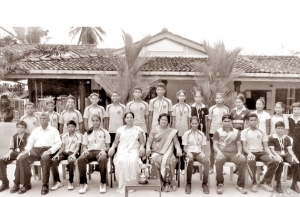 Sussex College, Gampaha emerged runners up….
The Sussex College, Gampaha emerged runners up by collecting 74 points at the Inter Sussex Badminton Tournament which was held on July 25th and 26th at the indoor stadium of St. Thomas College, Mount Lavinia.
The Kandy Sussex won the total championship by gathering 96 points.
Sussex College, Gampaha have obtained their special championship as follows.
Under 11 boys championship by Master Dinura Senarathne
Under 13 boys championship by Master Kokila Navanjana Pathirana
Under 17 girls championship by Miss Tharushi Perera
Under 15 boys runners up by Master Kavishka Manthilaka
Under 17 girls runner up by Miss Sathma Vithana
Under 11 boys dual championship by Sandeep Guruge and Dinura Senarathne
Unde4 17 girls dual championship by Miss Sathma Vithana and Tharushi Perera. Under 15 girls dual runners up by Miss Daniya Panditharathne and Hashara Wikramasurendra.
Under 11 boys single the prior fitness for semi-final by Sandeep Guruge
Under 13 girls dual game the prior fitness for the semi final by Aloka Perera and Menuri Thisera.
The college coach of the Badminton C.M.D. Janaka, Mrs. Rose Fernando the Principal and Lionel Peiris the P.T. Instructor are here in the photograph with the college winners.
2241 Total Views
1 Views Today