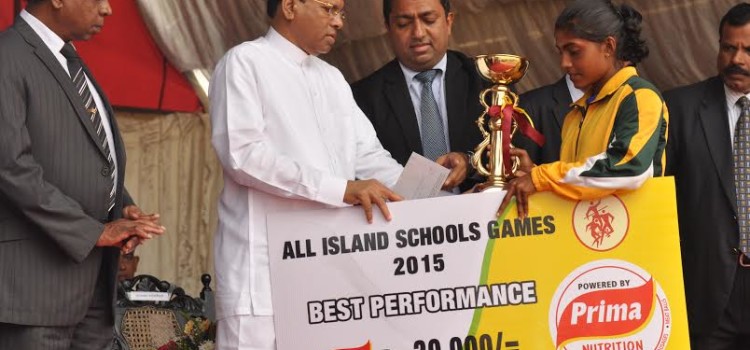 Prima supports All Island School Games 2015..
Extending their commitment to uplifting active school sports, Prima sponsored the All Island School Games held at Mahinda Rajapakse International Stadium, Diyagama last Monday. The only sports event of this nature held at school level was sponsored by Prima for the fifth year, previously having been sponsors during the years of 2010, 2011, 2013 and 2014.
Organised by the Ministry of Education, The All Island School Games held for the 31st time this year, identify and reward the performance and the exceptional abilities of school children in the field of sports under different games.
While providing key nutritional support by offering free noodles for over 8,500 students attending the event throughout five days, Prima also sponsored attire for judges and other event officials.
The Health, Physical Training and Sports Division of the Ministry of Sports conducted the Games in three stages. The games included 27 group games. A total of 5151 boys and girls from 1210 schools who were winners at provincial level participated at the athletics competition.
The Ministry of Education described the Games as a catalyst in introducing sports men and women with exceptional abilities in the sports arena from villages to towns, from towns to provinces and from provinces to the national level and then to the international level athletic games .
It has been encouraging to see that a large number of students who took part in the All island School Games in the past years have participated and performed well at an international level including the Olympic Games , Commonwealth Games , Asian Games and South Asian Games. This year the Games were inaugurated by President Maithreepala Sirisena and Minister of Education Akila Viraj Kariyawasam.
1754 Total Views
1 Views Today