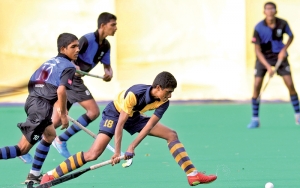 Royal retain Orville Abeynaike Memorial Trophy ..
Royal College continued it's winning streak as it edged out S Thomas' College by two goals to one in their annual hockey encounter for the Orville Abeynaike Memorial Trophy played at the Astro Turf, Race Course, Colombo on Friday.
The Reid Avenue School dominated the match as their seasoned campaigner Pasindu Charuke's two goals gave Royal this hard-fought win.
S Thomas' scored their only goal in the second half through their centre forward Kavindu Mahawansakkara as straight forward hit in the 'D' area in the 12th minute of the second half. Royal's's forward-line managed to put pressure on the opponents from the very first minute. They kept the defenders busy with their short passes.
After a series of attacks, Royal earned two penalty-corners in quick succession but both were saved by Thomian skipper and valiant goalkeeper Pasindu Wanigasooriya.
In the 14th minute, Royal earned a crucial penalty corner and right-half Pasindu Charuke netted it successfully to record the first goal of the match.
The Royailsts charged back and earned another penalty-corner in the second half. Charuke, the most outstanding player, sent the ball crashing into to the net to make it 2-1 in the 56th minute and the Reid Avenue School ran out worthy winners for the second successive year having won last year's enounter by 3-nil at Mount Lavinia.
Before this 'big encounter', Royal won the Dudley De Silva Memorial Shield after their routing of Wesley College by nine goals to one.
During that match, Charuke scored three goals.
In the Royal-Trinity encounter for the JCA Corea Memorial Shield, Royalists won by nine goals to one.
1894 Total Views
1 Views Today