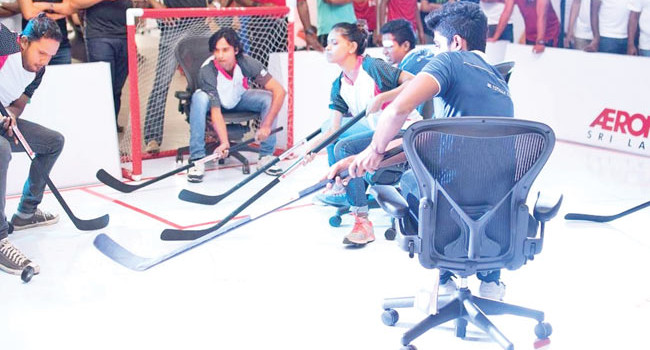 DHL emerge Aeron Hockey champions …
DHL emerged champions of the inaugural Aeron Hockey Tournament and walked away with the champion trophy and five Aeron chairs. Philip Weerasinghe Associates became runner-up while the British Councill secured the third place. The tournament was organized by the JAT Holdings, distributor of the world renowned Herman Miller seating and desking solution in Sri Lanka. The tournament was conducted at the Trace Expert City with the participation of 14 of the most reputed local business organizations battling out for supremacy.
The teams which took part were, MillenniumIT (MIT), HSBC, HDPL, Philip Weerasinghe Associates (PWA), Murad Ismail – ChannaDaswatta Associates (MICDA), Young Architects Forum (YAF), SurathWickramasinghe Associates (SWA), Dialog, British Council, Hayleys, DHL and Virtusa.
The tournament was organized to show case the ergonomics and versatility of this unique chair and to highlight its exceptional functionality while brand targeting its direct and indirect customer base amongst the top corporate and design firms in Sri Lanka.
Aeron Hockey is an evolution of "office hockey" played with a puck and makeshift stick. Played in a purpose-built indoor court, it comprised five players a side. Armed with hockey sticks bearing close resemblance to the ones used in ice hockey, the teams competed for the lead while seated on iconic Herman Miller Aeron chairs.
2110 Total Views
1 Views Today