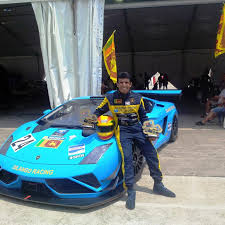 Dilantha Malagamuwa aims for world title……….
International racing superstar Dilantha Malagamuwa left the country yesterday to participate in the Lamborghini Blancpain Super Trofeo World Championship Final which will be held at Sebring International Raceway track in Florida, USA from 19 to 22 November. This was officially revealed at the special send off function held at Cinnamon Lakeside Hotel on Saturday.
The World Final, in which Malagamuwa competes for the second time in his career, will be held with the participation of over 100 top drivers.
The Lamborghini Blancpain Super Trofeo World Final will be its third edition, and also the final round of the three European, North American and Asian series. It will be Malagamuwa's second after his first attempt failed in Malaysia last year.
After the first two World Finals held in Italy in Vallelunga in 2013, and last year in Sepang, Malaysia, the end of year finale of all three continental series, at one international venue, will be in America for the first time.
The Sebring circuit, which has 17 turns on a 3.74-mile circuit, is America's oldest road racing track, with more than six decades of history.
At the four-day event there will be four titles up for grabs besides the Lamborghini Blancpain Super Trofeo World Final.
Other races to be held are PRO, PRO-AM, AM and Gallardo AM, where on their home track, the locals are considered as serious contenders.
Over the last seven months, drivers and teams have battled for championships in each Lamborghini Blancpain Super Trofeo series. Each series has two races left in their regular seasons before the World Final.
Malagamuwa is the only driver in the world in this series to include his country's flag on the driver's kit.
Speaking at the occasion, Malagamuwa said: "I must mention my main sponsor is Humble Sri Lankan in the right corner of my car. One of Malaysian friends' asked me 'what is the nature of the company you mention.' I said that was credit for the people of my country. Their only humble wish is my main sponsor" said the three times international title holder.
These slots can earn him more money as sponsorships, but Malagamuwa said he is privileged to promote his motherland to the world, rather than look for extra money. Orient Finance PLC came forward to sponsor Dilango Racing for this World Championship.
Harin Fernando, Minister of Telecommunication & Digital Infrastructure, and Orient Finance PLC Chief Executive Officer Suresh Amarasekara and leading artistes participated at the occasion to wish Malagamuwa.
2143 Total Views
1 Views Today