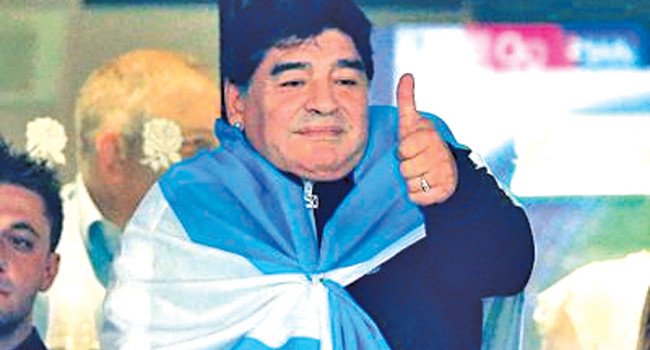 Maradona doing well after surgery – loses over five kilos..
CARACAS: Former Argentine football superstar Diego Maradona has lost over five kilos and his progress has been "satisfactory", said Colombian surgeon Carlos Felipe Chaux, who operated on the athlete on November 14 in Maracaibo to adjust a previous gastric bypass operation.
"His progress has been satisfactory — it's perfect. He has lost around 6 kilos," Dr. Chaux told Efe on Monday.
The Colombian doctor, who has looked after the Argentine legend for 11 years, repeated that Maradona "is doing well, he's in very good condition and will soon be leaving Maracaibo", where he is observing a period of repose at the Hotel Intercontinental to recover from his operation.
"He should be leaving Maracaibo the day after tomorrow, since he is now able to travel," said Chaux, who couldn't say whether the soccer idol plans to spend a few days in Caracas. The 55-year-old was released from Maracaibo's Falcon Clinic two days after surgery and, constantly accompanied by a nutritionist, has had a daily diet based on proteins.
IANS
2102 Total Views
1 Views Today