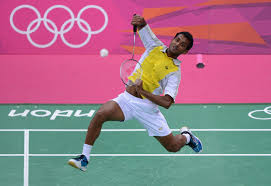 Niluka beats Dziolko but fails to qualify
Sri Lanka's badminton champion Niluka Karunaratne managed to defeat Poland's Adrian Dziolko 21-19, 24-22 but failed to qualify for the Round of 16 as he suffered an early loss against the famous Chen Long at the Olympic Games in Rio, Brazil.
Initially, Niluka went in with great expectation of making it past the first round, knowing his opponent Chen Long's abilities. However, Niluka's lack of experience resulted in favour of of Chen who comprehensively defeated him, dominating from the start.
Knowing his fate, Niluka certainly did want to make a difference by bagging a win in the second game. He certainly did make it past the Polish opponent who battled it out until the end.
"I thought I could've done better against Chen Long (in the first match). I've had really hard training. Even the World champion has to start at zero. He came up with different strategies to break my momentum from time to time. It has been a great experience and I'm thankful to be here in Brazil," said Niluka Karunaratne.
1302 Total Views
1 Views Today