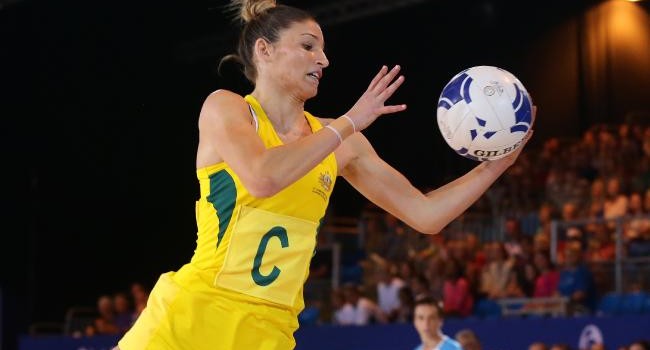 Diamonds make perfect start…
The pair scored a combined 51 points as Australia eased to victory over a valiant South Africa outfit, who bettered their 35-point thumping against the Diamonds in the World Cup.
Goal attack Natalie Medhurst nailed a further 12 points before making way for debutant Stephanie Wood, who scored five.
The world champions went on the offensive from the get-go, repeatedly hitting Bassett with passes over the top from midcourters Kim Ravaillion and the returning Madi Robinson.
Bassett netted 16 of her 17 shots in the first quarter as the Diamonds raced to a nine-point lead.
At the other end of the court, goalkeeper Sharni Layton ensured the absence of skipper Laura Geitz didn't impact too heavily on the side, marshalling from the back with authority and restricting limiting Proteas shooter Lenize Potgieter to eight points.
The match followed a similar pattern in the second quarter, as the Diamonds put their foot down.
Ravaillion and Robinson snared a combined 17 goal assists over the two quarters to take the Diamonds into the halftime break ahead 36-20.
Coach Lisa Alexander rung in the changes at the halftime break, introducing April Brandley into the defence and young gun Liz Watson as centre.
Bassett was also given a breather for the second half, swapped out for Thwaites after her 28-goal showing.
A closer third quarter ensued, with the Proteas limiting the third-quarter tally to 14-10.
Wood and fellow defensive debutant Kristiana Manu'a were both given their Diamonds debut in the fourth quarter as the Diamonds wound down the clock.
Thwaites, 29, finished her half on the court with a perfect 23 points from 23 shots.
964 Total Views
6 Views Today