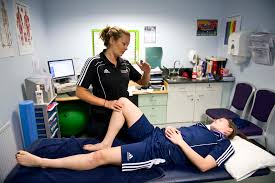 The Importance of Sports Medicine……
Also know as Sports and Exercise medicine is a branch of medicine that deals with Physical fitness and the treatment and prevention of injuries related to Sports and Exercise. Although most sports teams have employed team physicians for many years. It's only science the late 20th century that sports medicine has emerged as a distinct field of heath care.
Sports medicine focuses on helping people include their athletics performance, recover from injuries, and prevent further injuries. Common sports injuries are concussion, mussels' cramps, Acl sprains, Acl tears, Ankle sprains, Shin splints and mussels sprains like that sports medicine is the fast growing heath care field, because health workers who specialist in sports medicine help any regular people as well athletics.
The field of sports medicine encompasses much different health careers, including is in are Athletics trainers, Doctors of Osteopathy, Exercisers Cytologist, Kinesiotherapist, Medical Doctor, Nursing, Nutrition – dietetics and Physical therapy.
A well as exercisers medicine is one the main topic in sports medicine. The concept of exercisers as health tool of is becoming increasingly medical patients, co-morbidities perform exercise testing and provide an exercise prescriptions, together with a motivational programmes and exercise classes.
The only medical institution which preserves both physical and mental fitness of athletics in Sri Lanka is the institute sports medicine. One of it main duty is to prevent the athletics from injuries. It's an institution dedicators their activities in School level, National level and also International level of sports.
Written by – Nayani Buddhika
1140 Total Views
1 Views Today