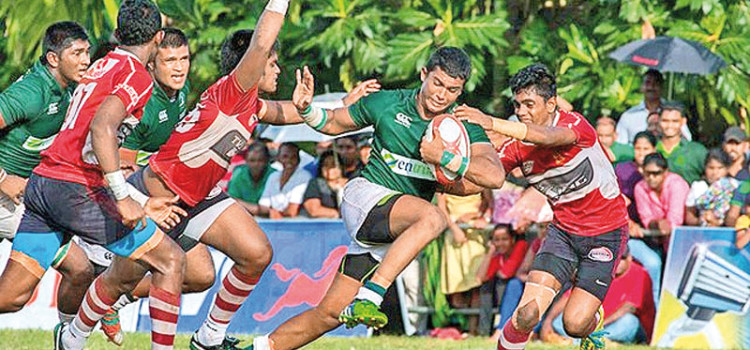 Singer schools 'A' division rugby : Resurgent Science face formidable Isipathana today
All roads will lead to Havelock Park this evening as rugby fans prepare for a bruising battle of attrition between two unbeaten schools the resurgent Science College and group leaders Isipathana in their Singer schools 'A' division group decider. Kickoff is at 4.30pm.
Both schools have proud histories of their rugby prowess and clashes between them have always provided fans with thrilling fare.
They have proved worthy group decider's with a consistent display of quality rugby against all their opponents in this year's league tournament and appear to have peaked at just the right time to provide a grand finale to the present schools rugby season.
The game will be a battle between Isipathana's speedy three quarters and Science's mobile forwards.
Science had a fairly lean first couple of matches compared to their own high standards but improved their game as the season progressed and despite ending behind group leaders Isipathana as per the points table, have picked up their game from the second match onwards. In the ongoing league tournament they have four wins in a row over St Anthony's Kandy (40-28), St. Peter's (13-10), Dharmaraja Kandy (54-7) and Kingswood Kandy (53-5).
For Science Tharindu Maduranga has been a tower of strength and has led from the front and emerged as one of the leading points scorers this season. Hashan Madumadawa, Nishad Niranjan, Thanuja Maduranga and Supun Dilshan have bonded into a powerful unit.
Meanwhile the high riding Isipathanians also have four emphatic wins on their way to this decider brushing aside Dharmaraja Kandy (61-15), St. Anthony's Kandy (43-17), Kingswood Kandy (53-05) and then beating St. Peter's College 36-21 with ease last week. Flanker Devin Gunaratne and their versatile number eight Wagesha Weerasinghe will be the men to watch. Weerasinghe is arguably the player of the season and the Science defence will have their work cut out to keep this talented player shackled.
Scrum half Bandara is a bundle of energy and a good reader of the game and is well supported in the back division by 15-year-old fly half Malinda Ruberu, centres Sumudu Rankothge, skipper Kushan Indunil and wingers Chamod Fernando and Padmasanka. Fullback Wickramaratne has been a revelation in his ability to join the line and his speed has brought him rich rewards this season.
Isipathana who have swept all before them will be the firm favourites but they know that they are up against a strong side and a loss to Science will not only prevent them achieving top spot in their group but will also take away some of the gloss of their grand performances this season.
Be prepared to witness a bruising battle between two great school teams with more than just a point to prove.
1378 Total Views
6 Views Today