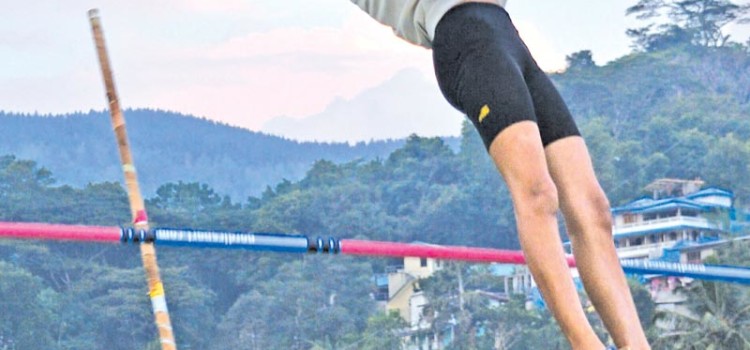 32nd All Island School Sports Festival
W.M.A.M. Madushanka of Thaldeka St. Rita's College, Wennappuwa won the first gold medal at the 32nd All Island School Sports Festival at the Bogambara Stadium, Kandy yesterday.
Madushanka recorded 14.42 metres in the under 21 boys shot-putt event. Incidentally, Madushanka's brother Manesh Malintha also won a gold medal in the under 17 discuss throw event. The opening ceremony was ceremonially held in the presence of Minister of Education Akila Viraj Kariyawasam who was the chief guest.
The students of Kingswood and Seetha Devi sang the National Anthem while the Minister hoisted the National flag.
Sunil Hettiarachchi hoisted the All Island school flag while the Central Province flag was hoisted by Governor Niluka Ekanayake.
The Directors of Provincial Education and Directors of Provincial Sports hoisted the Provinces flag and sports flag respectively. The All Island School song was sung by Kingswood and Seethadevi students. The torch was carried by 2015 All Island Schools Games best sportswoman Rumeshika Ratnayake of St. Joseph's College, Kegalle and the best sportsman of throwing events S.P.B. Bawantha of Weera Keppetipola National School, Akuramboda.
The welcome speech was delivered by Education Ministry Secretary Sunil Hettiarachchi. The Games was officially opened by the Minister of Education.
Yamani Dulanjali of Ambagawuwa Central College made the Competitors' Pledge while the Referees Pledge was made by Neville Rodrigo. The opening ceremony ended with a beautiful 'Ves' dancing item.
Email Facebook Twitter Google+ Pinterest PrintFriendly
1441 Total Views
1 Views Today