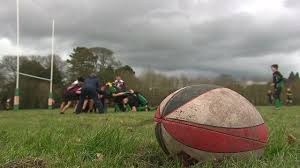 Asian Rugby Sevens Series 1st Leg in Hong Kong ….
The young Sri Lanka sevens team led by former St. Peter's College captain cum speedy centre Danushka Ranjan secured a place in today's semi-finals against top seed China despite losing last group match to Asian giants and second ranked Hong Kong 22-0 in the Asian Rugby Sevens Series 1st Leg in Hong Kong yesterday.
Hong Kong opened scoring in the very first minute through winger Lee Jones who touched down for an unconverted try to go into 5-nil lead. They scored their second unconverted try in the third minute of play through Alex Mcqueen who collected a pass from his brother Tom Mcqueen and scored to increase the lead to 10-nil which was the score at half time.
Soon after the breather Hong Kong scored their third unconverted try through captain Max Woodward in the eighth minute to increase the score further to 15-nil.
In the very last move of the day Hong Kong scored a try through the other brother Tom Mcqueen which was converted by brother Alex to earn a 22 points to nil victory against the very young and newlook inexperienced Sri Lankans who were sans nine experienced regulars from Kandy Sports Club.
Earlier in the day in their first match Sri Lanka thrashed Chinese Taipei by 43 points to 12.
The Tusker's tries were scored by Kevin Dixon (two), Hirantha Perera (one), Tarinda Ratwatte (one), Jason Dissanayake (one) and Saliya Hadapangoda (one). Dulaj Perera slotted in five conversions.
In their next match Sri Lanka routed Malaysia 40-12 with tries scored by Jason Dissanayake (two), Tarinda Ratwatte (two), Danushka Ranjan (one), Kavindu Perera (one) and Dinusha Chathuranga (one). Two conversions each were put over by Dulaj Perera and Jason Dissanayake.
Sri Lanka will play opposite group leaders China in the Cup semi-finals while the other semi-final will most probably be against group leaders Hong Kong and the opposite group runners up Koreans.
In the other group matches which took place yesterday Asian giants and rank number one team Japan were relegated to the Bowl competition after shockingly losing 10-12 to China in their first group game and to the Koreans 5-19 in their last group match and crashed out the Cup championship..
WOMEN'S TOURNAMENT
*Meanwhile in the women's competition Sri Lanka fared really well when they thrashed Uzbekistan by 39 points to nil and went down fighting to Asian champions and number one ranked Thailand by 7-14 and China by 0-37.
1124 Total Views
1 Views Today