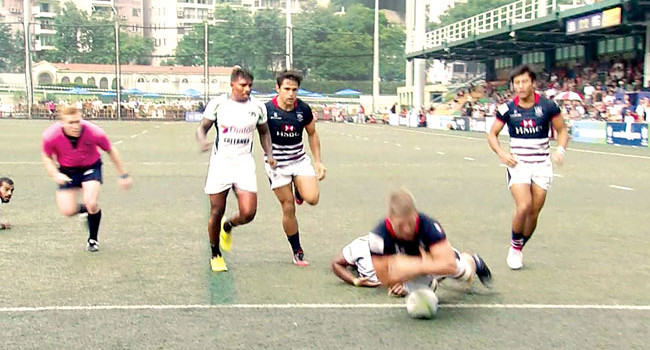 Will SLRFU protest over controversial try?
The Sri Lanka Rugby Football Union (SLRFU) has every reason to lodge a formal protest over the poor refereeing in the Asian Rugby Sevens Series first round final against Hong Kong where Sri Lanka were robbed of a certain win.
Sri Lanka lost the final 22-17 but it could easily have been 17-15 in favour of Sri Lanka had it not been for a blunder on the part of the Australian referee.
There is a saying that pictures don't lie.
The picture depicted here shows clearly that the crucial try scored by Lee Jones for Hong Kong in the Asian Rugby Sevens Series final against Sri Lanka is a knock-on. Jones is clearly shown dropping the ball to the ground while scoring the try – the player's hands are not in control of the ball while scoring the try.
According to the IRB rules the hands or hand should be on the ball when the player touches down for a try and he should be in control of the ball when he touches down. In this instance it is not so and thus it is not a try and it goes down as a knocked on and, a penalty should be awarded to Sri Lanka from that position. The grieving party has 48 hours from the incident to lodge an official complaint and the SLRFU can still go ahead and do it. This is not the first time such an incidence has happened concerning Sri Lanka. In the 2010 Asian Games in China a similar incident occurred in the Cup quarter-finals against Hong Kong. On that occasion the SLRFU remained silent.
Asanga Seneviratne, president of the SLRFU is also the secretary of the Asian Rugby Football Union (ARFU) and Sri Lanka has very good reasons to lodge a protest.
912 Total Views
1 Views Today