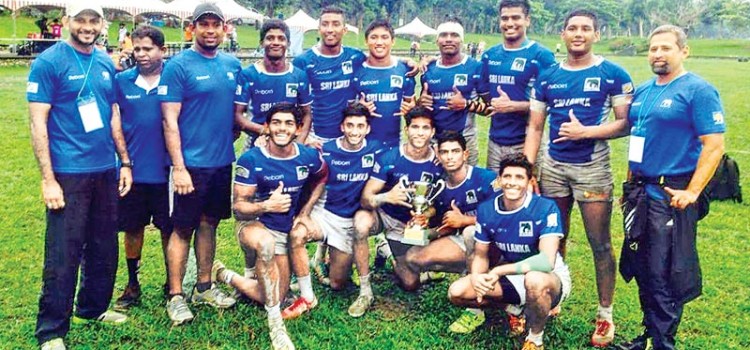 Asian Under 18 Sevens Rugby Championship in Chinese-Taipei
Sri Lanka's win in bagging their first major international rugby cup championship – the Asian Under 18 Sevens in Chinese-Taipei was described by coach M.J.M. Mushtaq as one of the gutsiest performances by a team of players he has ever coached.
Under Mushtaq's direction Sri Lanka went onto to emerge Asian Under 18 Sevens champions and earn the number one ranking in Asia – a rare feat for the sport in the country.
"In the semi-finals from nowhere we came from behind to beat the host Taipei 19-14 after trailing 12-14," said Mushtaq.
"We were down to only five players with less than two minutes to go but it was a fabulous effort. The entire squad of players played with a big heart right throughout the tournament," he said.
In the final Sri Lanka beat the same opponents 10-5.
"Let me tell you it was not a rosy path to glory. Before our departure we were hampered with injuries to three of our key players including vice-captain Sumudhu Rankothge, winger Diyath Fernando and forward Cristian Dilile," said Mushtaq.
"To make matters worse we had to leave to Taipei with only 11 players as Gamunu Chethiya did not get the required visa to travel. Most of the rugby loving people in the country never knew these things, which took place prior to us leaving the country to take part in this rugby tournament," he said.
Mushtaq said that their main strength in the tournament was the excellent defence which really paid off well in the end.
Sometimes the people behind the success are overshadowed in victory but Mushtaq was quick to acknowledge the tremendous impact that director coaching Inthi Marikar had made.
"Inti taught me everything. My win is like Inthi's win that's how much he has taught me," said Mushtaq.
"Inti is a very hard working coach. He always passed his tactical knowledge to us and his contribution was immense and his vision was to take our rugby to the next level. We have achieved success now we need to continue it," he said.
"Inti always told me that he wanted to build the team to achieve a high standard. His motivation was that. He has made a lot of sacrifices. He wanted to win the Cup championship more than any one.
"He was constantly behind me and the team giving the perfect mental strength and making the environment for the players to get on with their required job easily. For me Inthi was the man behind our success of winning this under 18 Asian rugby Sevens championship and undoubtedly our pillar of strength," Mushtaq said.
He also thanked the Sports Minister Dayasiri Jayasekara, SLRFU president Asanga Seneviratne, Canterbury Crusaders trainer Nick Grouber and the selection committee to helping Sri Lanka achieve this unique victory.
1390 Total Views
1 Views Today